While white-girl shoulder shimmying to Keith Sweat (on my "I'm So Embarrassed" Spotify playlist), I started thinking about boundaries. (Because musical boundaries? I have none. That and Keith Sweat puts me in a philosophical mood.) 
I think it goes without saying that I might have some boundary issues. But then most of us do, right? In fact, I'm less baffled by those with glaringly poor boundaries and more by those assholes walking around who draw wonderful boundaries in their lives. They're like a living, breathing unicorn. I'm all, "How in the fuck can you be that well-adjusted? Why aren't you as screwed up as the rest of us?"
Because boundaries can exist everywhere. With family (durrrr), co-workers, employers, friends, strangers. I mean, any situation in which you interact with someone is potentially ripe for a boundary breach. Like when the little cafeteria lady downstairs managed to wedge her ideas about abortion into the 49 second window of my time where I'm paying for my lunch. It was beyond inappropriate and weird, and I left thinking, "Jesus. Overstep much?!" And also: "I hope you gave me extra cheese on my pasta."
Boundaries seem to go both ways. First, there are those you have that dictate what you will and won't do in the world; and second, there are those you fasten into place to defend yourself from others. For myriad reasons, I've had a deficiency of both for most of my life. Pretty much anything that enters my mind is subject to leaving my talk hole at break-neck speed, which usually has interesting consequences. Conversely (and totally unsurprisingly), I was also always quite horrible at setting up boundaries for others. Anything you wanted to do or say to me wasn't necessarily welcome, but regardless of my meager protestations, plenty of inappropriate shit has been lobbed my way and I ended up taking it like a low-tier porn star. I had a hard time telling people no.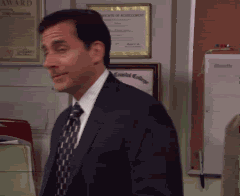 So. Having not had boundaries up until this point doesn't make me a victim; it just makes me late to the game. Because now? This bitch has started to set some boundaries.
And it's not like I *set out* to create some. But this whole "getting sober" —–> "giving a shit" —–> "taking care of myself" progression has just sort of naturally fallen into place. In fact, it reminds me of one of my favorite lines in the Big Book: We will intuitively know how to handle situations which used to baffle us. And having boundaries? Confounded the fuck out of me for 36 years. Truly. Perhaps I'm simple, but it simply never occurred to me that I could just be all, "No, this [insert particular unwelcome thing] isn't going to happen."
Of course, the kink in all of that is that you're going to have people whose seeming LIFE GODDAMN GOAL is to cross any and all boundaries you have in place. Naturally, this can happen with strangers. Like the crazy who accosted me at PetSmart the other day while I was flirting with the adoptable cats. "Don't get one of them things," he said. "They got dirty mouths."
"Well then, the cats and I have that in common," I quipped back.
You know, strangers are fun. You get those who stand entirely too close to you when talking ("Thanks for eating a tuna sandwich today!"), or who ask inappropriate questions (unless you see the fucking head crowning, don't ask a woman if she is pregnant — there are societal rules that dictate this). There are the cashiers who comment on what you're buying ("Suppositories and the latest Men's Fitness, huh? Looks like you're about to have a great weekend.") and the foot-in-mouth randoms who manage to say things that are simply inappropriate ("You look like someone who's going to be alone this Valentine's Day, too.")
To me, crossed boundaries get worse the closer to home they hit. Perhaps it's a little-known co-worker who says or asks something inappropriate ("You're what, a 38, 40 DD? I'm just going based on what my wife kind of looks like.") or the brand new acquaintance who asks if you exercise often. ("Oh, all the time," you want to fucking say. "That's why I'm still shopping at Lane Bryant.")
But the most egregious boundaries crossed are undoubtedly by those who know you best and claim to do things, like love you. You know, a lot of really horrible shit can be said in the name of love, as it turns out. If someone knows you well enough, hearing them question your good intentions, your sincerity, your integrity or your guiding morals can be a crushing blow. Some people, if and when you let them, have absolutely no problem invading your very tender core and ripping you to shreds. Families are probably the worst about this, since they've known you since you were toothless and shitting yourself. There are usually dozens and dozens of years' worth of material, and if you're the enterprising type, you can ruffle through the undying file known as your mind and pull out a sensitive little kernel of information with which to gouge your target.
For example, my foray into finally declaring, "Fuck it, Imma lay this boundary down whether you like it or not" came after I learned that my mother had my most recent ex, The Lawyer, investigated. Why? Because my parents didn't approve of the 23 year age difference and supposedly were concerned with how fast things were moving. In that, he'd expressed his interest in traveling with me, and fell in love with me pretty quickly. (I don't need to tell you that this was all information I had stupidly fed to her.)
My mother's boundary oversteps often sting. "Just too much moving fast," she told me. "He was telling you he loved you and wanted you to go to Oregon with him, and you had already discussed children? Uh-uh. Something wasn't right with him."
My response: "I am 37 goddamned years old. For all of your claims about how quickly and often I fall in love, I've never taken that to the next level. I've never eloped, or gotten engaged, or moved in with someone, or gotten knocked up, or had a quickie divorce. So I don't move too fucking quick."
*Note: No, they found nothing criminal about The Lawyer. He was and is a nice guy.
Then, without even thinking much, I said, "Because you chose to have The Lawyer investigated after less than two months of me dating him, and because you were able to do that because I trusted you enough to tell you things, you will no longer hear about my love life. If or when I go on a date, you will not know about it. If I am seeing someone, you will not know about it until *I* deem it necessary. And that will be if and when I feel compelled to introduce you to him. So I hope you enjoyed yourself."
Lots of catty shit followed, but I immediately felt vindicated. A little light had come on and sizzled in my head. "I can say no!" I can, to use a phrase, put the fucking smack down. When you freely give yourself away to people, you have to understand that not everyone will honor you enough to be trusted with the information they receive. Some people will use that information to take advantage of you, humiliate you, hurt you or one-up you. Putting down a boundary is a way to keep yourself safer. It's a way to keep your dance space clear so you can…dance.
Of course, if you're not vigilant, boundaries can quickly become walls. Perhaps if you keep those walls of a scalable size, then a few here and there probably aren't bad ideas. Because there will be a panoply of people who won't give a hot fuck whether or not you're hurt, or feel bad about yourself, or feel violated. As you know, some people who are given an inch will take a mile. Those are the people boundaries seem built for.
It seems to me boundaries and self-respect go hand-in-hand. It's about protecting yourself because no one else will do it for you. It's about having a voice, sometimes without even using a word. It's about a personal privacy. It's about treasuring certain aspects of your life enough to hold them close.
Because even as I type this, I can tell you that I am coming up on something big. Like, life-changingly big. A friend told me I should write about it, and I very well might. But not right now. Right now I need to keep that boundary, because it just feels right. I might feel differently when things get further down the road, but for right now, you'll have to trust me when I tell you that this is a good boundary to keep.